We are a specialist marketing and business development agency set up in 2019 to help business owners, executives and leaders to not just survive, but to thrive in the increasingly competitive and challenging B2B landscape.
We also often work with multidisciplined business coaches as a specialist support function to guide, coach and support the changes needed to scale up and grow organically.
Marketing done well is SO MUCH MORE than websites, content and generating leads. It's about insight, identity, shared purpose, innovation, value and delighting customers.
Headquarters
United Kingdom
GCP LEVEL 1
1
Accredited GCologist
GCP LEVEL 2
2-5
Accredited GCologists
GCP LEVEL 3
6-10
Accredited GCologists
GCP LEVEL 4
11-20
Accredited GCologists
GCP LEVEL 5
21-50
Accredited GCologists
GCP LEVEL 6
51+
Accredited GCologists
WHY US
We offer marketing & business development expertise in the form of specialist tools, coaching & support. We work directly with business leaders, business owners, executives, & coaches, to build & manage a fully aligned sales & marketing operation that delivers profitable growth.

MARKETING STRATEGY SHOULD CREATE & COMMUNICATE CUSTOMER VALUE.

We argue that all successful companies utilise modern marketing methods. They understand & serve target markets better than competitors, resulting in superior product/service offers, innovation & service.

Our methodology is based around the Customer Gap Model, that aligns people, products, processes & systems with the needs of your target markets.

We use the GC Index to get the right people in the right roles & teams, so business leaders can ensure their employees:
- REALLY understand the business strategy, what's expected of them & how to contribute & maximise the impact they make.
- REALLY understand & profitably serve target markets with real value, innovation & great service.
- Work together to improve & remove bottlenecks / blockages in processes & systems, to enhance efficiency & improve the customer experience.
GCP SPECIALISATIONS
Business Strategy
Culture Transformation Programmes
Digital Transformation
Innovation Programmes
Leadership Coaching & Development
Management Consulting
Operational Improvement
Organisational Design & Development
Recruitment & Onboarding
Sales & Growth
Performance Mgmt & Sucession Planning
Team Impact Development
Young People Development
OUR GCOLOGISTS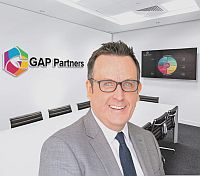 Geoff Miles
GAP Partners
United Kingdom
Business Strategy - Culture Transformation Programmes - Digital Transformation - Innovation Programmes - Leadership Coaching & Development - Management Consulting - Operational Improvement - Organisational Design & Development - Recruitment & Onboarding - Sales & Growth - Performance Mgmt & Sucession Planning - Team Impact Development - Young People Development