5% Season: 17th December-7th January 2022
The finishing line for 2021 is now in sight!
It's been an interesting, demanding, yet exciting year for all of us here at The GC Index as the positive impact our GC Community is making around the world shows no sign of abating.
In true GC Index style, we wanted to try something different as the year comes to an end –making sure all our team take some time out and have a truly restive break over Christmas. It is the season of 'good chill' after all! So, we have launched 5% Season similar to our 5% Weeks.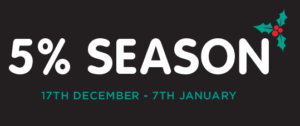 It is our way of saying a special thank you to our fantastic team this Christmas who all continue to work incredibly hard to serve our wonderful GC Partners, GCologists and global community as a whole.
We recognise that the last year or so has been particularly relentless for everyone and our people here at The GC Index are not immune to this. By enabling our team to have a proper break over the festive period, we hope they will have the time they need to spend with loved ones and care for their own physical and mental wellbeing.
It is an opportunity to still be there for GC Partners, GCologists and clients that still need us but let our team know how much we appreciate everything they're doing to support our community.
What does this mean in practice?
We know many of our GC Community continue to work over Christmas and work still needs to be done, so instead of shutting the business down fully we are operating the maximum of 5% working time rule during this period, as we do with our 5% Weeks.
We will be implementing the 'Must Do – Should Do – Could Do' model and asking our team to be very strict and only to consider the 'Must Do' during this period.
The whole GC Index team came back after the last couple of 5% Weeks feeling more energised, happy and ready to maximise their impact. We believe a proper break over the festive period will bring great benefit to our business, our team and, ultimately, The GC Index Community.