All Personal is a bespoke training, coaching and consulting company based in Toronto, Canada. All Personal works with corporate, small businesses and non-government organizations, and helps them build game-changing teams to create innovative workplaces!
How?
Consulting for corporate leaders and scaling businesses, to help them strategically attract, develop and retain talent that fits their organizational culture and business goals.
 Training and coaching programs on communication, coaching & mentoring, emotional intelligence, feedback, leadership, presenting & speaking, teamwork, team & self-management.
GCP LEVEL 1
1
Accredited GCologist
GCP LEVEL 2
2-5
Accredited GCologists
GCP LEVEL 3
6-10
Accredited GCologists
GCP LEVEL 4
11-20
Accredited GCologists
GCP LEVEL 5
21-50
Accredited GCologists
GCP LEVEL 6
51+
Accredited GCologists
WHY US
The workplace, as we know it, is changing, so getting ready now for 'the future of work' is crucial!

The All Personal motto is 'it's all personal, nothing is just business', and that means that innovative, successful organizations will know that the success of their people will translate in the success of the organization.
Partnering with The GC Index® means that All Personal can better serve its clients to build game-changing, high-performing and long-term teams and businesses!

As the first training, coaching & consulting company that brings The GC Index® on the Canadian market, All Personal is able to offer its clients a unique business tool that ensures they gain a competitive edge by strategic talent attraction and retention, and development of learning and engagement plans and programs that bring clear, long-lasting returns on investment!

GCP SPECIALISATIONS
Culture Transformation Programmes
Innovation Programmes
Leadership Coaching & Development
Management Consulting
Organisational Design & Development
Recruitment & Onboarding
Performance Mgmt & Sucession Planning
Team Impact Development
Wellbeing
OUR GCOLOGISTS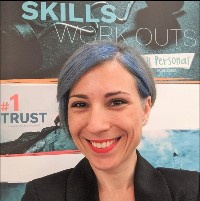 Roxana Radulescu
All Personal
Canada
Culture Transformation Programmes - Innovation Programmes - Leadership Coaching & Development - Management Consulting - Organisational Design & Development - Recruitment & Onboarding - Performance Mgmt & Sucession Planning - Team Impact Development - Wellbeing