The DNA of a Game Changer
This study plugs a gap in the research on leadership by giving us a detailed insight and practical understanding of those special people who rarely surface in the corporate world but, when they do, leave a lasting impression on us: Game Changers.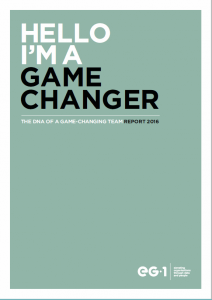 The DNA of a Game-Changing Team
In 2016 we published The DNA of a Game-Changing Team study, which focuses on how to create a game-changing team.
A good idea is not enough for an organisation to survive. In today's digital world there is the demand to carry on with 'business as usual' while we challenge ourselves to invent, implement and execute creative and transformational change. Through our research we are starting to understand the composition of game-changing teams.
Driving Innovation & Game-Changing Outputs
The GC Index® is truly revolutionising the way that individuals, teams and organisations operate, shifting mindsets to focus on impact. Download our brochure and find out how The GC Index® can help your business today.