What is it?
The TM Forum Digital Maturity Model (DMM) is an online tool that helps define what 'digital transformation' means for your particular organisation and aids the organisation in navigating its own digital transformation journey.
The digital revolution creates both significant opportunities and threats. Impacting every industry, service providers can embrace significant growth opportunities by looking beyond connectivity. At the same time, commoditization and digitalization of connectivity services have created an urgency to dramatically simplify and transform the efficiency of the existing business.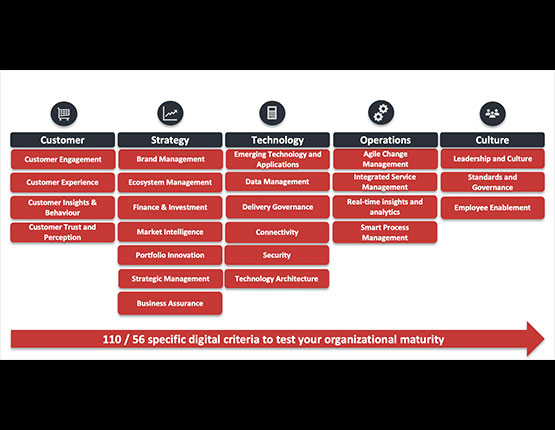 Digital Maturity Model Overview
This online tool offers a practical approach to transformation. It has been crafted over the course of many months by industry thought-leaders.
CSPs, technology companies, and global advisory firms that have pooled their knowledge and experience to create a model that can be used to identify possible investment priorities and manage the journey itself, step-by-step.
The model is split into five dimensions:
Customer – Providing an experience where customers view the organization as their digital partner using their preferred channels of interaction to control their connected future on and offline.
Strategy – Focuses on how the business transforms or operates to increase its competitive advantage through digital initiatives; it is embedded within the overall business strategy.
Technology – Underpins the success of digital strategy by helping to create, process, store, secure and exchange data to meet the needs of customers at low cost and low overheads.
Operations – Executing and evolving processes and tasks by utilizing digital technologies to drive strategic management and enhance business efficiency and effectiveness.
Culture, People, and Organization – Defining and developing an organizational culture with governance and talent processes to support progress along the digital maturity curve and the flexibility to achieve its growth and innovation objectives.
By asking people across the entire organization to assess the company's maturity in each of these areas, you can identify where transformation or improvement is needed and where investment is required.
The model has the flexibility to account for differences in your visions, strategies and business imperatives allowing you to baseline your existing digital maturity capabilities and create a 'go to' target level of digital maturity.
Each of these five dimensions contains sub-dimensions representing different aspects of digital maturity. Each sub-dimension contains a number of criteria statements, 110 in total, that can be rated to provide a view of your current level of digital maturity and a target level.
Driving Real Business Outcomes
The output of the DMM is an organizational heatmap that acts a common communication dashboard for both highlighting the digital capabilities that need to be matured within the organization and to provide a view of the progress achieved once the next transformation programme phase has been delivered.
'Digital Transformation' is a loose term meaning many different things to many different organizations. Utilizing the DMM allows digital transformation to be defined for the actual organization and a programmatic path to delivering the digital capabilities that are desired to achieve the business outcomes required.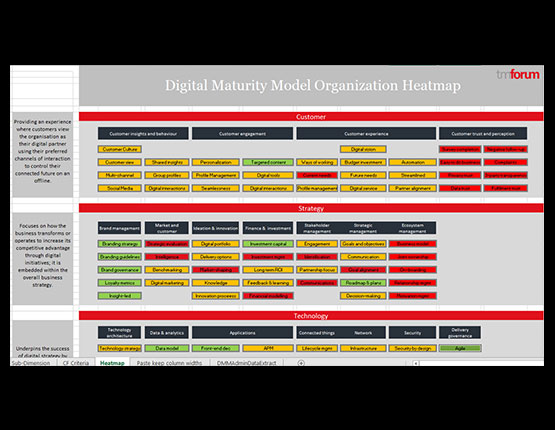 The GC Index and Digital Maturity Model
How effectively are teams delivering transformation in your business? Does everyone understand how they can impact the process of transformational change? Is your organizational culture nurturing the change that needs to happen?
The GC Index® underpins the TM Forum Digital Maturity Model by providing the language and framework to show how different individuals will make a positive impact in their role, on projects, and in teams during different stages of a digital transformation journey
How The GC Index enhances your digital journey:
Shifts traditional business and operating models, cultures and infrastructures
Develops new ideas into digital services and revenue streams
Creates a common language of impact and innovation
Aligns everybody to make an impact on the digital transformation journey