Using data to make better business decisions
Making business decisions can be a gamble if you don't have access to good data. All too often important insight is buried and people data is often difficult to access or too complicated to inform business decisions.
Organisations typically focus on people, process and technology – this is known as the PPT framework or the Golden Triangle. But the common thread – the data linking all of these three areas together – is often missing and this is where The GC Index® data is helping leaders:
Determine what steps to take next
Define success or failure
Make better business decisions
We have got so many specialist GC Partners within our community who embed The GC Index® into their own frameworks and methodologies when advising clients on big business issues, such as business strategy, mergers and acquisitions, transformational change programmes and sales and growth plans.
Nigel Evans, psychologist at large, says, "The GC Index® is truly unique and unlike any other profiling tool out there in the way it can be used across such a range of sectors and industries. The sheer scale and ways in which it is being used to measure impact across the globe, from individuals to teams and organisations, is something to celebrate."
How The GC Index® is providing unique insight to help leaders make more informed decisions
Data can help leaders define success or failure and determine what steps to take…
The GC Index® is unique in that it provides us with insight on business impact and it is this that enables leaders to make more informed decisions by identifying what thinking or activity is required at every stage of a business process or project to make that it is successful.
This allows the organisation to align the right people to projects and processes and get the best outcome for the people themselves as well as the business, for example:
Applying The GC Index® to Operational Processes enables the alignment of people, process and technology to deliver the desired business outcomes.
Take the guesswork out of Organisational Development and find out exactly who, where and what you need to prioritise to drive improvement.
How the data drives improved performance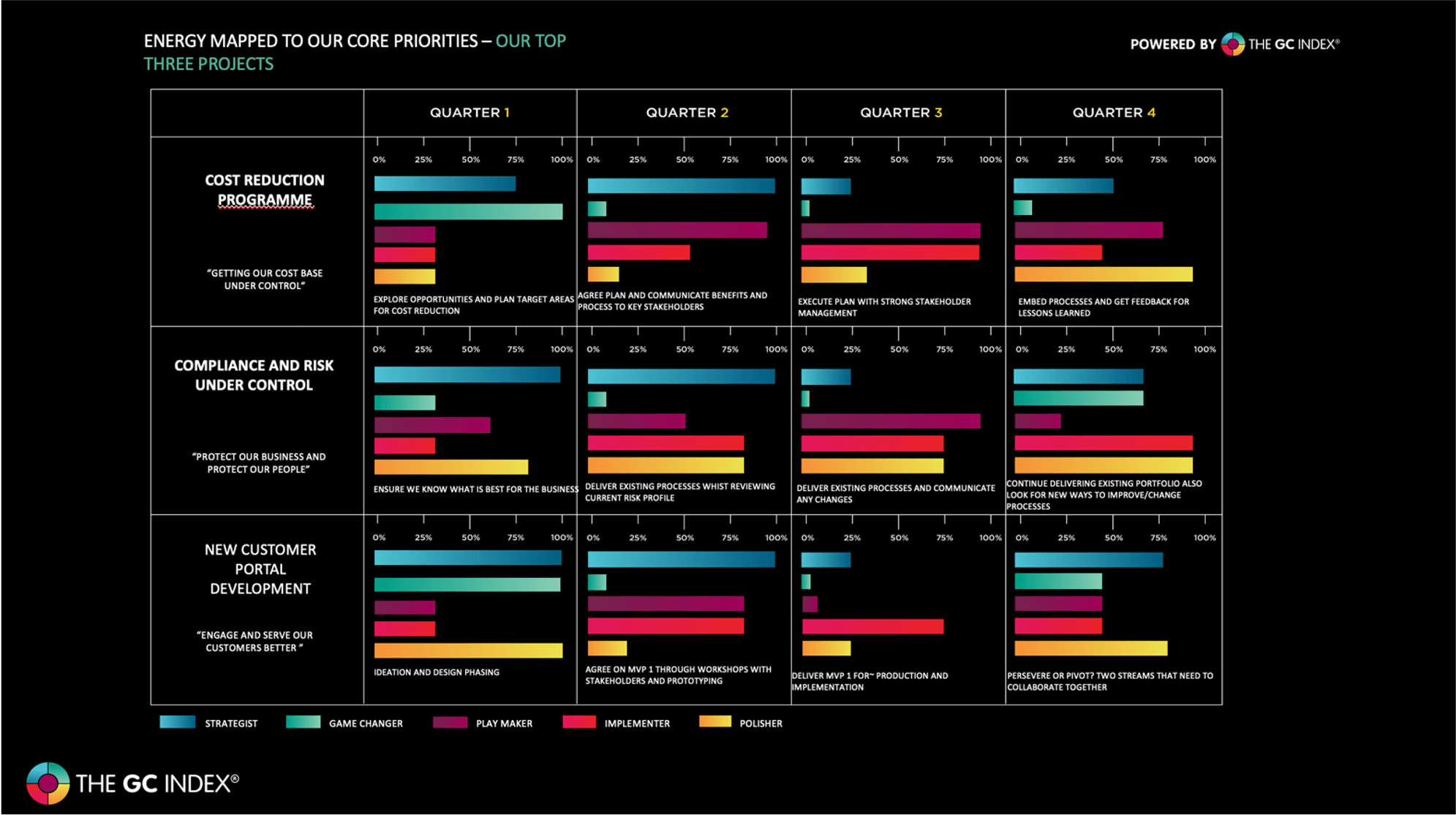 The image above demonstrates how organisations are using The GC Index® to help map out their strategy based on each stage of the process to understand whether they have the right people to do the original thinking and planning, as well as the right people to then deliver results and quality outcomes in a collaborative way.
We have seen The GC Index® be used to help organisations align people to any business process. This includes alignment to Agile, LEAN, embedding cultural frameworks, digital roadmaps, aligning to sales process and so many more.
What differentiates The GC Index?
The key differentiator of The GC Index is that it is the world's first Organimetric 'organisation-metric'.
Ultimately The GC Index is data – it measures the business impact of individuals, teams and organisations and this data is then used in the context of the individual, team, organisation, process or/and project to make better business decisions for any Business Process, Business Decision Making and for any People Process and People Decision Making.
Helping clients to use The GC Index to inform major business decisions
If you would like any support in shifting your organisation from focusing on the softer people issues and moving to a place where you are using The GC Index® data to make more informed business decisions please do contact us. We have lots of resources, case studies and tips we can share.