Water For People Rethink Talent Management
Water For People has partnered with The GC Index ® to implement a game-changing talent management programme to help them execute their strategy.
The Challenge
Like many non-for-profit and charitable organisations Water For People is facing challenges in today's current economic climate. Not only is it hard to maintain adequate funding levels but the team often face huge barriers getting into communities where water is needed, which means stakeholder management is key as is demonstrating the positive impact the team is having.
The leadership team recognised the need to review its talent management strategy, in order to be successful in creating game-changing teams in the communities it serves to make high-quality drinking water and sanitation services, accessible to all.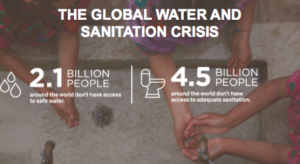 The Solution
The GC Index ® team ran a series of workshops for Water For People, focusing on the teams' individual and collective impact.
The programme was structured in such a way to ensure everyone has a clear understanding of:
Overarching business and individual team goals
What their team needs to do to support objectives – the collective impact
Their role and other's role in achieving team and business goals – individual impact
Over 40 people carried out The GC Index® assessment to gain a better understanding of how they make their impact as an individual, how others contribute and the collective team impact.
Each team, including the leadership team, explored what they want to be renowned for and how they can go about achieving this based on the contribution each person in the team makes.
The GC Index® created a framework for the team to share how to get the very best impact from one another. This enabled individuals to have an honest and open discussion about the activities that energise them and those that really zap them of energy.
The programme is now in the process of being rolled out across all teams across Water For People.
The Impact
Water For People is changing its approach to the recruitment and performance of teams and this is starting to transform the way the organisation is managed – people are recognised for the real contribution they make.
Real insights into how people make their impact is leading to improved collaboration. It is also helping create better-informed decision making and impact-based talent management decisions, which is allowing Water For People to create sustainable teams in communities to deliver clean water and sanitation.
Eleanor Allen CEO Water for People says, "We are now rolling The GC Index® out to all our employees around the world. It is a powerful tool to identify and optimise different leadership styles to be a game-changing organisation. It is helping us get in an even better prepared to really change the world!"