Free & equal? National STAND UP Schools' Human Rights Conference 2021
We are excited to be supporting this year's National STAND UP Schools' Human Rights Conference, in support of Amnesty International and Unicef UK which is streaming live to secondary schools and sixth forms across the UK, on the 21st September 2021.
During the live event students and teachers will explore racial inequality, learn from those affected by it and find out how to take action to build a fairer future. It will focus on:
Unboxing Racial Bias & Disparity
Celebrating Identity & Inclusivity
Challenging Inequality & Alienation
Peter Radford, a speaker, teacher and writer with 25 years experience in education, says, "The events of 2020 and the global prominence of the Black Lives Matter movement have brought racial inequality to the centre stage. Now is an unprecedented time to address this issue in our schools and equip our students to challenge injustice and champion the human rights of all."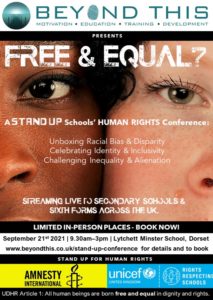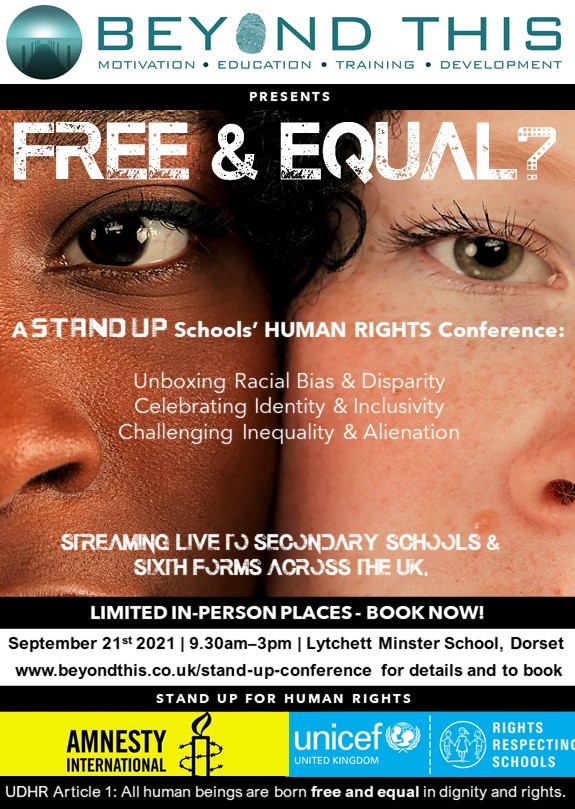 There are an amazing line up of speakers. These include:
Lee Lawrence, author of "The Louder I Will Sing", social change advocate, a qualified mediator and Restorative Justice facilitator. Lee Lawrence was 11 years old when he witnessed the shooting of his mother Cherry Groce by police, sparking the 1985 Brixton uprising.
Linett Kamala, an artist, educator and carnivalist. As one of the original cohort members of Future Leaders, Linett has trained, mentored and coached hundreds of school leaders across the U.K. Linett is Founding Director of Lin Kam Art, President of the University of the Arts London Alumni of Colour Association and Board Director for the Notting Hill Carnival.
Mukhtar Ahmad is a surgeon, clinical leader, patient safety advocate and medical educator. Born and raised in Nigeria, he relocated to the UK 18 years ago for postgraduate surgical training and has experienced the challenges and opportunities of 'being away from home'. He is part of the BAME network at University Hospitals Dorset NHS Foundation Trust.
Nylah Abitimo-Jones is 8 years old. In 2020 Nylah performed her poem 'Black' in front of over 5000 people at a Black Lives Matter protest in Cheltenham. Inspired by rapper Dave's song 'Black', Nylah finished off her performance by asking that we 'learn Black History in schools' and added that 'Africa is not a country!' Nylah's performance has been watched across the world by millions, reposted Missy Elliott and many others. She was a guest on BBC's 'The Sista Collective' podcast, and Blue Peter.
For a full line up of speakers and to register to attend the event please click here.