LEADER INTERVIEW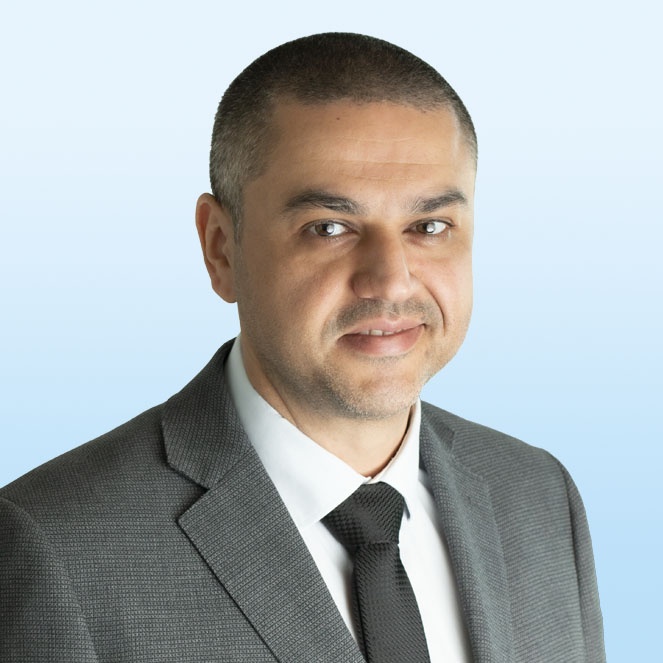 Ahmed Kareem
Project Manager
Colliers Project Leaders
Implementer/Strategist
About Ahmed
An engineering bachelor graduate with a major in construction management, Kareem has over 18 years of professional experience between Canada and the Middle East. He has worked on many project portfolios ranging from $160 million to $2 billion across institutional, commercial, residential , and transportation sectors.
After completing his undergrad studies in Egypt, his career started in the United Arab Emirates. Kareem says "To me the journey of self-improvement and continuous learning never ends. I understand and value the importance of knowledge and it's added value to an individual's growth and success. That's why I invest in myself and always look to expand my skillset. I have advanced my academic and professional education to include an MBA degree from Ryerson; a post-grad education in Quality Management; achieved my PMP and LEED certification; and lately completed an executive education program with MIT.
You have had a successful career so far, what does your GC Index profile tell us about what underpins your success?

Tenacity and perseverance! Those have been two of the top traits I've always attributed to myself growing up and moving along in my career. As a kid I was tenacious, even borderline stubborn, when it came to making sure that my sister and I get everything right and as planned during the whole week just to make sure I get that weekend trip I was promised by my parents but "only if you get your chores done"!

And it was my perseverance and persistence in accomplishing the task at hand, against all odds and challenges, that got me to achieve my career milestones at an early stage by proving myself and ensuring a successful delivery.

It was the GC Index profile that solidified these facts to me after almost 20 years of professional practice! Surely was refreshing to see a tool designed to highlight a person's proclivities and put in words that "gut feeling" in me that I've learned to trust and hone throughout my life.

Finding out that I am more of an Implementer & Strategist than a Polisher very much makes sense and matches what I've always felt is a management style I've become accustomed to and more importantly, what my peers, managers and subordinates expect from me. Being the pragmatic and adaptable person that I am puts these proclivities more into perspective and makes the results logical.

Although my score falls midpoint as a Game Changer, I would say that too is accurate since I do tend to challenge the status quo and push the limits, but it's always to a certain extent were I feel that any further push might cause more disruption than benefit, and becomes counterproductive.
What skills have you had to develop along the way to make the most of your proclivities?

It became apparent early on in my career that some skills are more essential if I am to succeed and build a path of growth for myself. By learning from my amazing mentors who helped guide me from starting as a junior engineer, through the several challenging roles on some of the largest construction projects in the Middle East, all the way to my transition and career re-start here in Canada, it was obvious that it's not only about your technical knowledge and your know-how. It's crucial that an individual work as hard on developing and sharpening their "soft skills" and fine tune these skills as tools that would help making them the leaders they are.

Working on projects that required I communicate frequently with high calibre clients, like delegates from the Presidential Office, to foreign country embassy representatives, and several ministries and government groups, knowing what to say and how to say it was essential in ensuring the project deliverables and objectives are met to the client's satisfaction, which in turn ensures work continuity and growth.

Communication and Stakeholder Management skills proved to me one of my strongest suits, only since I've realized their importance in my career and how a successful manager or leader must have a high level of practice to those fields. It wasn't only a matter of getting the job done, it was as important in knowing how to present the information and getting everyone's buy-in towards a common goal. And with clients that don't have much time, I had to be strategic in the information I lay down and how to target the right audience.

I guess I owe a lot to one of my first managers ever that once told me that in order to be a successful manager, you must know how to write a letter! Looking back at this, it's amazing how such a seemingly mundane statement can carry so much weight.

What's interesting now is that how the GC Index results fall almost perfectly in line with my actual style of management and logic of thought. The way I see it, a person could not be a strong Implementer or Strategist if they are not a strong communicator!
When have your felt, in your career, that your role was most 'in tune' with your proclivities?

I would say these proclivities were most pronounced during my roles within a manager capacity. It's when I have taken on more responsibilities and been in a situation were my interactions and communications are external to my department or organization, it was more evident how to be a Strategist and an Implementer. If I'm to pinpoint a specific role, that would be when I was a Project Manager on the $4 billion Presidential Palace Project.

That was a unique project which I was handpicked for by my mentor and superior given he was well aware of my capabilities and expertise since we've worked closely together for over 6 years prior. It was the challenge of being given this huge and serious responsibility that had forced me to up my game rapidly and manage an impressive portfolio of high-level stakeholders. Those included overseas consultants and suppliers, representatives from the office of Presential Affairs, and even media sources on a few occasions.

It was then that there was no room for error. Our whole department was expected to act and make decisions as one unit, and it fell onto me to ensure this happens day in, day out. Unbeknown to me at that time, this provided me with the platform from which to build up and sharpen these specific skills that I would then take with me on all future assignments as a value added to my skill set and in turn the role I'm in.
When have you felt, in your career, that your role was least 'in tune' with your proclivities?

That would be when I first graduated from engineering school and got my first job as a junior engineer part of a major name brand boutique hotel renovation. It was a time when the expectations from my superiors that I would be told what to do, rather than think and decide for myself. It did work it initially since I understood the value of the opportunity I was presented to have such a project as my first and I spent that time learning from others around me the secrets of the trade and how to get things down on the ground. But after a brief period of time with me just taking orders and directions, I realized that there's not much room and no means of applying what I'm learning and doing my own thing, I came to the conclusion that I am more inclined to take what I've learned elsewhere that might benefit from me.

Another situation that comes to mind is when I'm working within a responsibility that is highly regulated by governmental procedures. Tasks become mostly automated with a laid out operation sequence for everyone to follow, that leaves little room to outside-the-box thinking or initiatives.
Who do you like to have around you, who are the people who complement your proclivities and get the best from you?
Going through the GC Index profile, I'm inclined to say that Polishers would be the best fit for me to work with. They'd be the people to take my plans and vision and make it all that better and appealing. We'd have a harmonious rhythm were our jobs compliment each other. Not to forget the Playmakers, with their capacity and adaptability to get everything and everyone working together for a common goal.