LEADER INTERVIEW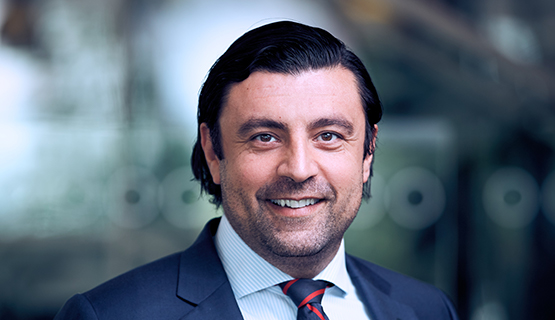 Taid Qazi
Chief Procurement Officer
Danske Bank
Play Maker/Polisher
About Taid
Taid has 13 years of sourcing/procurement experience within the financial industry and spent the last 3 years as Chief Procurement Officer (CPO) in Danske Bank, headquartered in Copenhagen (Denmark). In addition to his CPO role, Taid was recently appointed to also head Danske Bank's Group Real Estate and Facility Management.
Over the past years Taid been driving an efficiency agenda. One important element of the agenda has been to digitalize the Procurement function to benefit employees, suppliers and customers. With the digitalization of processes he has maintained a keen and diligent focus on the human aspect in an increased digital world.
Taid, tell us a bit about background and how you reached your current role.
I'm 42 years, married and with two kids (1 and 3 years). I originate from Pakistan but raised in Denmark. My educational background is MsC in International Marketing and Management from Copenhagen Business School. My career started in 2008 as a sourcing analyst in a financial institution.  In 2011, I was offered a position in Danske Bank, in the rather newly established "Group Procurement". I have held various position across categories in "Group Procurement" and was appointed group-wide CPO in 2018. In September 2020, "Group Procurement" and "Group Real Estate" was merged into one unit, called "Procurement & Premises". Our unit is part of the "technology & Services" organization and I report to the COO (who is part of the Executive board).
How would you describe your strengths in terms of how you use them to deliver results and lead the Procurement team?

As you can see from my GC Index profile, I have an adaptable profile which is very important in the role I am in. It highlights that I am at my best when I play to all of my strengths at the right time and I would break this down further into the following areas:

—> Get sh!t done, Ultimately, I need to make things happen and deliver results. I need to ensure Procurement & Premises runs smoothly, as value is recognized.  We have been tasked by the executive board to reduce our cost base by many billion DKK by 2023 and intend to fully deliver on this expectation.

 —> Create an Environment where people are motivated, even in tough times as we are all going through now.  Also as part Strategic Workforce Planning, it's important we retain and continue to develop our talents and maintain key roles.

—> Be an Accountable leader: I aim to demonstrate rock-solid expertise and use it to generate new value, building trust with my management while meeting their expectation to reduce risk and support our growth
What does your GC Index profile tell you about what underpins your success, and how are your proclivities visible in your day-to-day responsibilities?

I think the key in understanding my GC Index profile is that as a Play Maker I certainly lead with 'People First' in mind. We have done some great work here at Danske Bank but with much more to do and that is all down to the team we have here. My role is to lead and inspire others to be the best they can be and make their best contribution to our business. I feel at my best when I can deliver through others and people understand the positive impact they can make as well as the valuing the positive impact of their colleagues.

As you will see from my GC Index profile I have quite a balanced profile when it comes to making an impact and it is when all of the GC Index proclivities are working in harmony for me do I feel at my best. I enjoy discovering new ways of doing things, putting them into a plan or strategy everyone understands which enables us to deliver results to a high standard by working well together. By leveraging The GC Index cycle to drive productive collaboration and I can leverage my strengths be a role model for team work.
What do you think stands out the most from being a Play Maker?

The role of Play Maker makes sense to me, they are like the glue that enables everyone else to be their best and shine. Play Makers are naturally 'People First' Leaders if they get the relationships right and the rest will follow. Play Makers value harmony and shared endeavor which can be difficult to be seen in task/output driven environments. At times the impact of Implementers and Polishers can be more valued because the results they achieve are more tangible and visible and the impact of the Play Makers can get overlooked. However, we know that if everyone is pulling in the same direction and feels valued for the contribution they are making then we are going to drive better business results and that is where the power of the Play Makers needs to be recognized in business.

In large complex organizations such as Danske Bank we need to unlock and value the power of the Play Makers to allow everyone in the organization to be the best they can be. The key skills to get right for Play Makers to be at their best are stakeholder management, influencing, conflict handling, creating cohesion within and across teams/groups. If we get this right we have a better chance of driving better business outcomes as a whole.
How are you using GC Index to achieve your function's objectives and support Danske Bank's priorities?

It has been a year like no other for the entire world not just Danske Bank and turmoil means more uncertainty, which in turn means we need to respond quickly to changing market conditions. By using The GC Index we have a language and framework that enables us to anchor many of our business decisions and communicate to all of our people how they are valued for their contribution to our journey.

The importance of building "Fit for Purpose" teams has never been higher and by using The GC Index data with our other 'people data' we are able to align teams to the right type of work and business expectations. We try to leverage what type of work our team members (and cross-functional team members) are naturally energized by and good at, and seek to complement their areas of weakness with the strengths of others. If we can align more concretely the 'energy of our people' to 'the work we require to be done' then we can deliver more productive business outcomes with a happier workforce. That's the aim.

We have seen this in action with our roll out of The GC Index in our division. We ran it with the global leadership population within procurement. Once we had this important data point about our people we were able to align our people and teams to focus on our top business priorities. We were able to have the honest conversation around 'what impact do we need to have on this business process' and in turn 'who are the best people to do this'. This was quite liberating process not only for me but also for all of our people, They could see how they could best contribute to the business and complement each other. We also had a number of our leaders trained in The GC Index to become GCologists to help us embed the language and framework into our day-to-day decision making. We continue to use the language and framework in our daily decision making.
What next for you in your role?
I am looking forward to the future, I have a great team around me and we have some exciting times ahead. We have the newly joined Premises organization to work on and that brings us some great opportunities to continue positioning Danske Bank as a leading Retail bank on the global stage. I am also excited by how we can leverage The GC Index not only within our organization but also within our supplier and partner network who are integrated into our operations to ensure that everyone in that ecosystem is delivering the best they can to the future of Danske Bank. As a Play Maker I suppose I would say this. but if we get the relationships right we can do great things together.
About Danske Bank

Danske Bank is a leading wholesale financial institution with primarily a Scandinavian footprint.

Danske Bank at a glance:

Established in 1871 and headquartered in Copenhagen, Denmark
approximately 22.000 employees across Denmark, Sweden, Norway, Finland, Lithuania, India, UK & Northern Ireland (excluding global representative offices).
200 branches, 3.3 million personal and business customers
15 BnDKK in net profit (2019), 45 BnDKK in total income (2019) and 9.6% in ROE

In late 2019 a transformation of the bank was initiated (called "Better Bank"), aiming to create a simpler, more efficient and transparent bank. The program is currently being unfolded across the organization; one of the expected outcome is that the bank will further enhance customer focus and execute faster on product development/deployment. This stream called "Better ways of working" is a cornerstone in the transform as it entails a huge reorganization of Business units (front office, middle office and back office) and significantly impacts internal collaboration.