LEADER INTERVIEW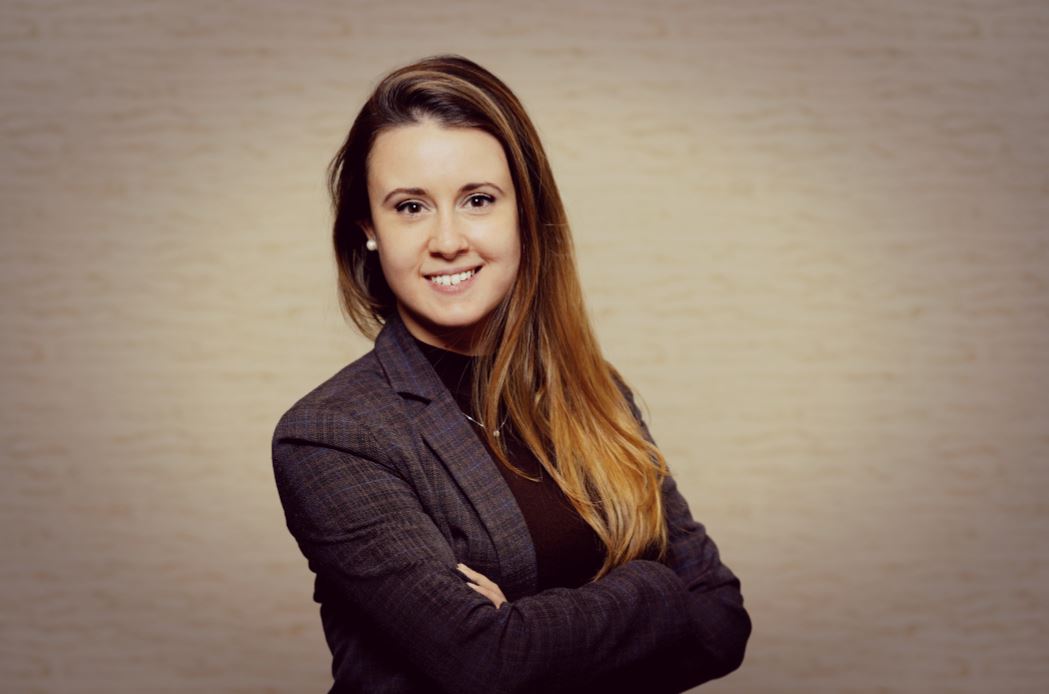 Valeria Ponis
Corporate Development Manager
Deloitte, Canada
Game Changer/Polisher/Implementer
About Valeria
In this edition of The GC People Leader Series Roxana Radulescu, Founder and Consultant at GC Partner All Personal, talks to Valeria Ponis, Corporate Development Manager at Deloitte Canada, about what it is to be a leader and how her natural proclivities support her in her leadership role.
Educated at the University of Rome Tor Vergata and the University of Leicester, Valeria started her career at Deloitte back in July 2014. Her first role as a Business Analyst then, in the Strategy and Operations field, as a Consultant and Senior Consultant and now Corporate Development Manager.
For the last 2 years Valeria has also led the efforts of "Power of Women", a community of 40 women organizing events to provide female professionals with development opportunities to accelerate their career advancement into leadership roles. Since the group foundation in 2017, the team led the development of 15 initiatives (between panel events, workshops and campaigns), with 30 speakers and over 1,000 attendees, and made strides in pushing the Deloitte's Diversity agenda.
You have had a successful career, what does your GC Index profile tell us about what underpins your success?

I found the assessment incredibly accurate. I am a creative problem solver, at my core, always on the lookout for new ideas to implement or better ways of doing things. When I find something I am passionate about, I get obsessed by turning that idea into reality and try to get as many people with me on the ride. Therefore, I am not surprised that the Game Changer proclivity weighs as much as the Implementer and polisher in my profile and I am not surprised to see a Polisher proclivity as well.

What helped me the most in my career has been visualizing my version of success and finding the discipline to get there. What separates a dream from a goal is a plan, and the acceptance that it will be sprinkled with wins and failures. Getting comfortable with failure has been a breakthrough for my career, which was enabled by my training in improv acting, storytelling and clowning. Yup, clowning too! Turns out that clowns are not only for children's parties.

Failing is what clowns do best and they celebrate it, because it what makes them connect with others. They are masters of vulnerability, they feel everything, and they are not afraid to show it. They embrace any experience that their body and their heart is open to receive. That's what I try to live by every day.
What skills have you had to develop along the way to make the most of your proclivities?

Improv acting training had a transformative impact on my life and my career. Immigrating from Italy to Canada by myself four years ago was as exciting as it was terrifying. Going from native to immigrant in the blink of an eye came with a whole set of challenges, that didn't allow my real personality to shine through. Improv acting taught me so many valuable lessons that I was able to incorporate in my day to day personal and professional life, and allowed me to make the most out of my proclivities.

One of these lessons is to look "inside the box" before going out of it. Improvisers work with what they have, don't go far out and look for unusual ideas. Not all ideas need to be whimsical to be creative. Looking for the obvious sometimes, offers a way to approach problems that appear daunting. When in doubt to speak during a meeting or to suggest a solution that seems obvious to me, I count on the fact that that my vantage point is unique per se and worthy, because I care about the outcome.

My suggestion to anyone who is trying to find their professional groove, is to understand and harness the skills that you already have before developing new ones, because most of the time what you have is enough. As women, this is particularly relevant. We are always looking out to the next thing that will help us "get there" because what we have now does not feel enough. I have many examples of women in my family, in my circle of friends or professional colleague, that did not take on opportunities because they felt they missed the extra qualification, experience or skill. There is no such a thing as the perfect time to start a new challenge and the search to find the ideal starting time and place, robs us of time. Once a challenge is underway, you have a new and more realistic perspective. You are inside it while looking at it, rather than standing safely at the perimeter. Start anywhere, start anytime and start playing your own drum and march to it, even if you feel clumsy with the sticks.
When have you felt, in your career, that your role was most 'in tune' with your proclivities?

When I worked in teams with a strong sense of trust and safety. When you have these two ingredients in a team, everything becomes possible. Even the toughest challenge can be overcome. It all comes down to culture. The biggest thing that a manager (and a team!) can do for you is to provide you with a sense of trust and safety. When you can confidently say that you don't feel judged for who you are and the team has your back for any mistakes that you may make, a magic thing happens: your mind takes off, ideas flourish and passion ignites implementation. This may sound like a chimera, but it exists, I swear! Collaboration becomes fluid, as everyone builds up on each other's ideas, so the team becomes ONE.

Team leaders play the most important role in the process, like conductors of an orchestra. One of the things that I have learned as I progressed in my career, is that as a leader, people watch and observe your every move.

The more you say one thing and do another, the more you lose the trust and respect of your team. Similarly, if you are willing (and have the courage) to walk the walk and show unwavering commitment, your team will get behind you and follow you anywhere. The best leaders are not the ones that say, "follow me", but "let me help you, your professional growth is my first priority". Many leaders measure their success by the amounts of praise and recognition they receive from the top, forgetting that the most impactful thing that you can do is building a legacy, and that requires strong ties with the bottom. Conductors of an orchestra keep their focus locked on the musicians, not the public.
When have you felt, in your career, that your role was least 'in tune' with your proclivities?'
When I took on loner assignments. I am a people person so working in a team environment is what I enjoy the most, despite the ups and downs that can come with it. This is one of the reasons why I turned down a full PHD scholarship opportunity in the UK, after my Masters degree in Rome. I know that the academic life can be isolating at times.
Who do you like to have around you, people who complement your proclivities and get the best from you?

Absolutely. Having a balanced Game Changer – Implementer – Polisher proclivity comes with a price! Once I find a project or set a goal for myself that gets me excited, I am all in. I think about it day in and day out and I get eager to build on the momentum to see fast progress. When the goal only involves me, I sometimes get overwhelmed; when the goal involves my team, sometimes we all get overwhelmed. I recognise this trait in my personality and try to work as much as possible with people that keep me grounded, help me prioritize and keep progress sustainable.

This is something I try to keep in mind also when building a team. It takes all types of people to make the world go 'round. We need the doers and the dreamers, the relationship builders and the introverts. When differences are respected, energy and enthusiasm get fuelled by each other's success and the most meaningful connections are made.

Similarities are not the only basis for connection. This is particularly critical in mentorship/sponsorship relationships. I see countless examples in my profession of "mini-me" situations where the outgoing/extroverts coach the outgoing/extroverts and the introverts coach introverts. As a leader, sponsoring and taking under your wing people different from you, is one of the most impactful messages you can send to the business and one of the most fulfilling growth opportunities for you. Regardless of the stage you are in your career, we are all "work in progress" and need each other to grow.